Ascension Public Schools Announces Leadership Appointments
Donaldsonville, La. -- Ascension Public Schools announces the appointments of new school leaders. Aubrey Yates is the Supervisor of Transporation, Dawn Alston is the Assistant Principal of Bluff Middle School, and Jeanne Daigle is the Assistant Principal of Bluff Ridge Primary School.

"I am excited to introduce some of our outstanding employees that are taking on new leadership roles," said Ascension Public Schools Superintendent David Alexander. "One of the greatest strengths of our school system is our employees, and these leaders are role models in their respective positions."

SUPERVISOR OF TRANSPORTATION

Aubrey Yates is the new Supervisor of Transporation.

Born and raised in Memphis, Tennessee, Yates came to Louisiana in 1989. He started working in the real estate industry in 1996 and owned and operated a mortgage company until 2008.

Yates began working for Ascension Public Schools as a long-term substitute math teacher at Dutchtown Middle School until he was hired full-time as a paraprofessional. He served five years as a Truancy Interventionist before becoming the Transportation Coordinator in 2014, a position he held for six years.

"I am humbled and honored to lead this Transporation Department and continue the work of longtime supervisor Larry Grant," said Yates. "I look forward to continuing to provide the best school transportation possible for the children of Ascension Parish."

Yates earned a bachelor's degree in accounting from Southern University. He and his wife, Shlonda, have six children: Brandi, Brendon, Kirsten, Sierra, Christopher, and Ayden. They also have two grandchildren: Nahla and Bryson.

BLUFF MIDDLE SCHOOL ASSISTANT PRINCIPAL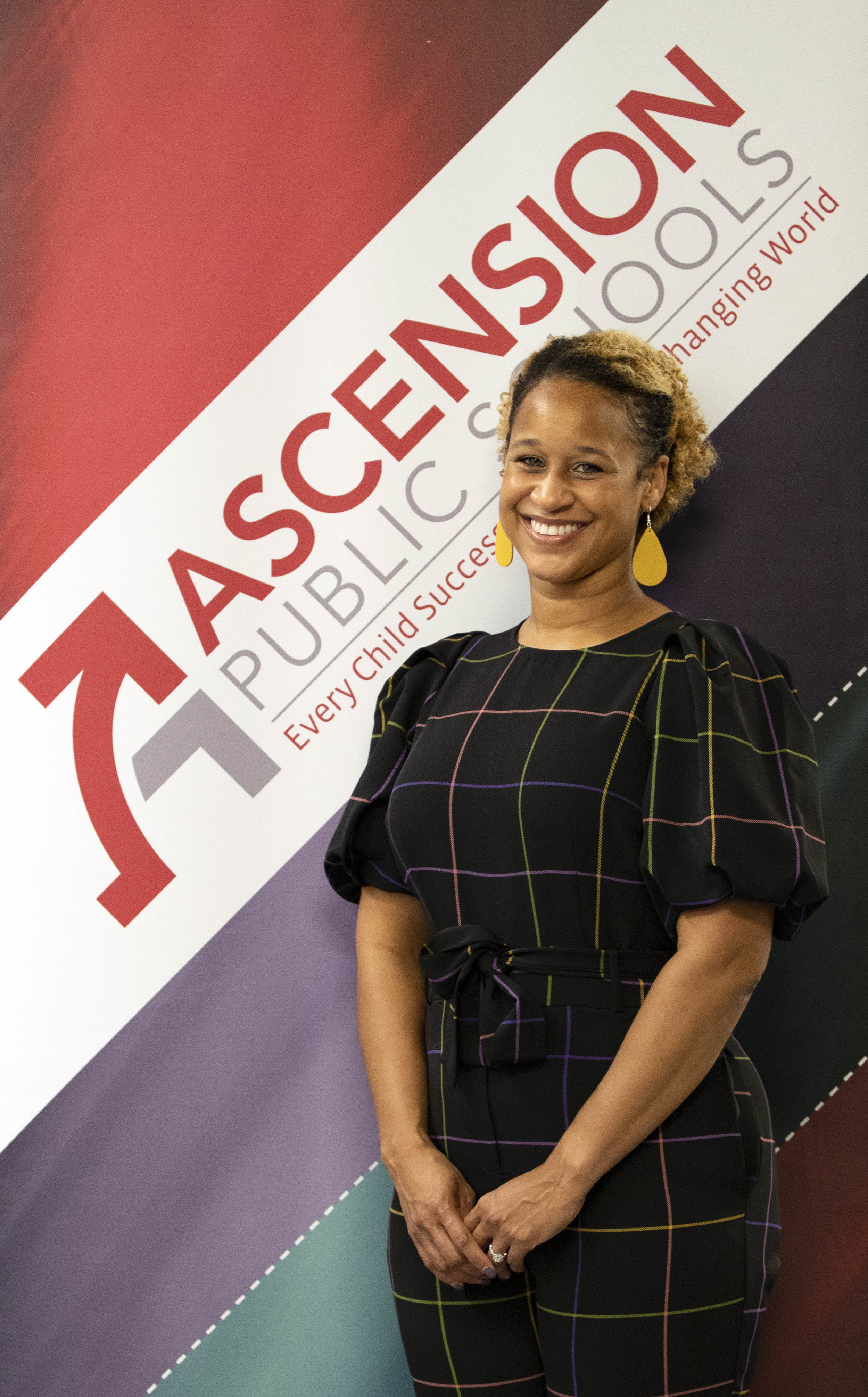 Dawn Williams Alston is the new Assistant Principal of Bluff Middle School.

Originally from Baton Rouge, Alston taught in Plaquemines Parish at Boothville-Venice High School for four years before beginning her career in Ascension Parish. She taught English at Dutchtown High School for 10 years.

After being accepted into the Teacher Leadership cohort, she served as a mentor and master teacher at Lowery Middle School until 2019. In the 2019-20 school year, she served at Prairieville Primary and Dutchtown Middle schools as part of the district's Administrative Intern Program.

"I am honored to be a part of the APSB family and truly thrilled to embark on this new endeavor of assisting with the opening of Bluff Middle School," said Alston. "I look forward to continuing to work with some of the best educators in the state of Louisiana."

Alston earned a bachelor's degree in secondary education with a concentration in English from Southern University and a master's degree in secondary administration and supervision from Our Lady of Holy Cross College.

She and her husband, Chris, have two children: Triston and Jaxton.

BLUFF RIDGE PRIMARY ASSISTANT PRINCIPAL

Jeanne Daigle is the Assistant Principal of Bluff Ridge Primary School.

A resident of Prairieville, Daigle has 18 years of educational experience. Twelve years ago, she began her career in Ascension Public Schools at Prairieville Primary. As part of the LIFT grant, she served one year as a Principal Intern at Lowery Elementary. She returned to Prairieville Primary to serve as a Teacher Coach, a position she held for the past two years.

"Thank you for your continued support. Because of my experiences in Ascension Parish, I am confident in my ability to serve the community of Bluff Ridge Primary," said Daigle. "Every day during the announcements we say 'here at Bluff Ridge Primary, we are building a better world, one student at a time.' I believe in this statement, and to able to do that alongside Principal Rhonda Gilliard is truly an honor."

Daigle earned a bachelor's degree in elementary education from Spring Hill College and a master's degree in educational leadership from Texas Tech University.

She and her husband of 19 years, Ronny, have four children: Landon, Alexandra, Andrew, and Parker.

For more information about Ascension Public Schools, visit www.apsb.org/.